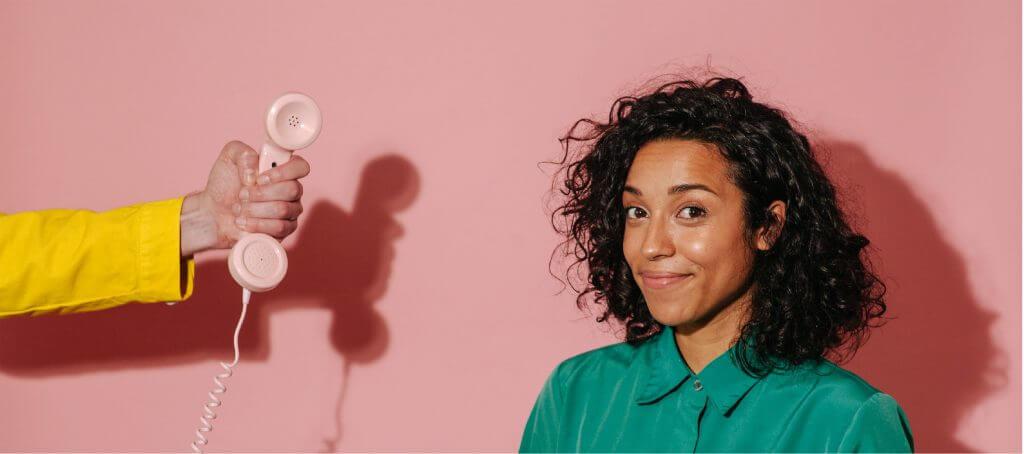 What is an answering service?
An answering service is a company that answers phone calls on behalf of another business.
That's it, that's the straightforward definition. What it doesn't capture is the many differences between providers, types of professional answering services, and the impact an answering service can have on your business.
Depending on what kind of solution you choose, using an answering service can be so much more than paying someone else to pick up the phone.
A high-quality professional answering service can present your business in a positive light to new and existing customers, improving your brand image as well as customer satisfaction and retention rates. And the best answering service providers create meaningful, personal connections with every caller, ensuring your business stands out as truly attentive and customer-centric.
Keep reading to learn what kinds of answering services exist, how those services work, the pros and cons of using an answering service, and how to choose the ideal answering service for your business.
What types of answering services exist?
Generally speaking, there are three kinds of services that answer your phone:
Interactive voice response systems (IVR) and other automated solutions remove or obfuscate the human element on the business side of the phone call. These are the so-called "robots" or "autoresponders" that provide lists of rudimentary self-service and transfer options—as in "press '3' to check the status of a prescription" or "press '6' to speak to a pharmacist."
Some IVR and IVR-equivalent technologies attempt to handle the customer interaction entirely from beginning to end; they may ask a caller to "please describe your problem in a few words" and then perform an action the caller could have done for themselves, or (more often, it seems) reply with a "sorry, I didn't get that." Most automated answering services fail to understand context or tone and can't deal with questions or requests they aren't preprogrammed to respond to.
An automated answering service may be a good choice for…
businesses that receive calls 24 hours a day, 7 days a week
businesses that receive more calls at once than a team of human agents could handle
businesses whose customers frequently need immediate, relatively basic assistance
Note that in any of these cases, an automated solution should be used to supplement—rather than replace—a human agent.
Call centers are large operations that specialize in sales, marketing, and customer support over the phone. Call centers are built for size and speed. They're used by businesses that need to handle a high volume of low-complexity calls at once—as quickly as possible. Unlike virtual receptionists, who provide personalized customer service experiences, call center agents typically work from pre-written scripts. Call center teams are much larger than virtual receptionist teams (think 200 people versus 20) and tend to undergo less intensive training for each client they serve. Finally, many call centers differ from virtual receptionists in the fact that their bread and butter are outbound rather than inbound calls.
This is the traditional answering service, less personal than a virtual receptionist but still a real person. When your call is routed to a call center, you know that you didn't reach someone at the actual business.
Call centers are a good choice for…
large B2C companies
businesses with thousands of customers
businesses in high-sales industries such as retail, automotive insurance, and telecommunications
Virtual receptionists are human beings who manage phone calls remotely (virtually) for business clients. They work the same way conventional receptionists do—answering and transferring calls, scheduling new appointments, taking messages, collecting caller information, answering basic FAQs, and so forth. The only difference is that they don't work onsite. To a caller dialing up a company, a virtual receptionist is indistinguishable from someone located on the business's premises.
Unlike the traditional answering service in the form of large call centers, Ruby's virtual receptionist service is rooted in the small business experience. Ruby receptionists are trained on the value of the phone call for small business and are dedicated to the creation of real, meaningful connections–it's not just answering the phone.
Virtual receptionists are a good choice for…
Small and medium-sized businesses
B2B companies
Businesses in high-touch industries such as healthcare, real estate, law, and financial services
Businesses that receive calls at unexpected hours and frequencies
Businesses looking to differentiate their customer service
Learn more about virtual receptionist services with our virtual receptionist overview.
How do answering services work?
Depending on the type of answering service you use and your purpose for using it, your answering service might:
Forward callers to you or another individual in your company
Take messages
Sell to prospects
Resolve customer issues
Collect customer feedback and/or personal data
And more…
Despite their differences, there are a few elements that are consistent through answering service options. When you use an answering service, you're paying for someone else to represent your business over the phone, greet callers on your behalf, and attend to those callers' needs.
…or all of the above, along with anything else you can imagine an agent can do over the phone.
After taking a call for you, a good answering service (usually one in the virtual receptionist category) will typically follow up by sending you an email, text message, or app notification with the caller's message or voicemail. The entire process happens behind the scenes, so callers are seamlessly forwarded to an agent who's ready to greet them and manage their request swiftly, courteously, and professionally.
And, when it's done really well, the caller truly believes that they spoke to a receptionist in your actual office.
Bonus: Phone Number
You don't necessarily need to get a new number for your business—often, answering services will allow you forward your existing phone number (all the time, part of the time, or on a delayed basis), or port the number over to them directly.
Though, if you're currently publishing your personal number, some services (like Ruby!) will provide a second, professional number for you. You can then publish this number and take calls from it on your personal phone–protecting your privacy and giving you two phone lines from one device.
Many answering services offer flexibility, so you can outsource calls when you need to (e.g. if you're busy or out of the office) and take the ones you'd prefer to answer personally. With more sophisticated services you can even set and update an availability status, giving you more flexibility and customization.
Who uses answering services?
Organizations of all kinds and sizes take advantage of answering services—perhaps more often than most people realize.
Entrepreneurs use answering services to offload the demand to pick up the phone themselves and to present their businesses as professionally as possible.
Small, internet-based businesses use answering services to protect their privacy and create virtual front offices.
Law firms and other professional services firms use answering services to field calls from clients and prospects.
Dentists and doctor's offices use answering services to schedule patient appointments when in-house receptionists are busy.
Construction and real estate companies use virtual answering services to ensure calls don't go unanswered when team members are offsite.
Large national and multinational corporations use answering services as dedicated sales and customer service departments.
These are just a few examples among countless others. The next time you place a call to a business, ask yourself: "Was that someone located at the business, or did I just speak to a virtual receptionist?" You may not be able to determine the answer—and that's by design.
What are the business benefits of answering services?
Given the premium customers place on personal connections, as well as the ways in which excellent customer service is a key differentiator, a good answering service has plenty to offer in terms of caller engagement and satisfaction.
Why attempt to manage every call yourself when a professional can do it for you and ensure the best possible caller experience every time? Plus, answering services are especially advantageous for small and growing businesses. Here are a few reasons why:
Answering services can take calls when you're busy. Your time is valuable. Don't let incoming calls get in the way of your and your team's productivity. An answering service can engage with prospects, handle customer issues and inquiries, and collect critical information when you're otherwise preoccupied.
Answering services can take calls when you're closed. Not every call comes in during the bounds of normal working hours. Rather than allowing potential sales opportunities go to voicemail or attempting to make yourself and your team available more than you need to be, leverage the flexibility answering services provide.
An answering service can help your business save money. You don't need to hire a full-time, on-site receptionist to ensure excellent customer service. An answering service can fulfill the same role at a fraction of the cost of hiring and training an employee—or several.
An answering service can increase your customer satisfaction rates. Human connections increase customer loyalty. Report after report bears this out. For instance, Invoca found that 80% of consumers are likely or very likely to become a repeat customer after a positive phone experience.
What are the potential downsides of using an answering service?
Thus far, we've looked at the many features and benefits associated with answering services. No list of pros, however, is complete without cons. It's essential for any business owner thinking about using an answering service to consider the potential drawbacks and risks, such as the following:
Call center agents may lack knowledge of your industry or customer niche. Agents need to be effectively trained for the kinds of requests and issues your callers will bring. Not every answering service may be capable of meeting your standards, particularly if you run a highly complex or specialized operation.
There may be technical difficulties. Between call forwarding errors, failed transfers, poor-quality phone equipment, incorrectly installed automated systems, and more, you and your customers may experience frustrating glitches. Be ready to take the time to set everything up and test it correctly—and choose a provider that's technologically well-equipped.
At call centers, customers may be put on hold for extended periods of time. If there's an influx of calls coming into your business, and your answering service provider isn't capable of managing them, expect your callers to experience delays.
Agents may go off-script or make conversational mistakes. This is another reason to select an answering service provider carefully. In addition to their technical capabilities and industry experience, pay attention to their professionalism—and, perhaps more importantly, how they recover from mistakes.
The costs may not justify the benefits. If you aren't getting enough calls, it's probably not worth paying someone to answer them. An answering service can delight your callers and help you convert business, but they can't generate calls where they aren't already coming in!
Answering service solutions with Ruby
At Ruby, we've built our solution with the needs of growing businesses in mind. Unlike a traditional answering service, we focus on creating personal connections with callers, turning rings into relationships and maximizing customer satisfaction and affinity for every organization we serve.
Today, ten thousand businesses across North America—from attorneys to roofers to marketing firms, nonprofits, and everything in between—trust Ruby to represent them over the phone and online.
Not sure if Ruby is right for you? Whatever path you take, we want to help you create more meaningful connections with the people who call your business.